Are you trying to figure out which ones are the 9 Best Laptops for Accountants to fulfill all your accounting tasks and requirements? Do not worry because we will give you the top suggestions for your ideal laptop. 
In search of the answer to getting the best laptop for accounting, what is the most important that you consider? If you are in the learning process and trying to complete your accounting tasks and assignments, you need a good laptop.
If you are a Certified Chartered Accountant or Certified Public Accountant, you will be dealing with records maintenance and tracking expenses against revenue. Another big requirement is to forecast the upcoming standing in the near future based on the current data and figures.  
Many firms use advanced software such as QuickBooks for better outcomes. Some organizations use other software for keeping detailed tax records. Your operating machine must have enough space to store all these files and support your work with longer battery timings.
To meet up all these necessary demands, you need a proficient laptop that can give you top-notch support. 
9 Best Laptops for Accountants
We have researched an accountant's work responsibilities and needs when getting the right laptop. Following are some of the finest laptops an accountant can get his hands on:
Lenovo is the brand best known for its highly compatible devices that are sturdy yet portable. They have engineered IdeaPad to make it top-notch performance for the long run. It is a powerful laptop with high specs that can satisfy most of your accounting needs and requirements.
It has the optimum 8 GB DDR4 RAM with a Core i3 processor, which will cause zero lags in your accounting tasks and working. SDRAM memory helps to access the reports and different documents stored in your storage. 
Talking about big screens, it has an HD display of 15 inches which will not let you miss any information. You can also play games or watch movies with 1080p higher color clarity supported by UHD Graphics. The platinum gray color will go well with your decent personality.
It is easy to carry and light in weight. Guaranteed 10 hours Lithium-ion battery timing will not leave your support in between the working hours.
Specifications
RAM: 8 GB DDR4

Storage: 256 GB SSD

CPU: Intel Core i3 – 1005G1

Battery: Up to 10 hours

Display: 15.6 Inches Full HD

Graphics Card: Intel UHD Graphics
Pros
Excellent Construction Material.

Solid And Sturdy Companion. 

High Processing Speed. 

Affordable Machine. 
Cons
The big charger will be a challenge to carry along.
---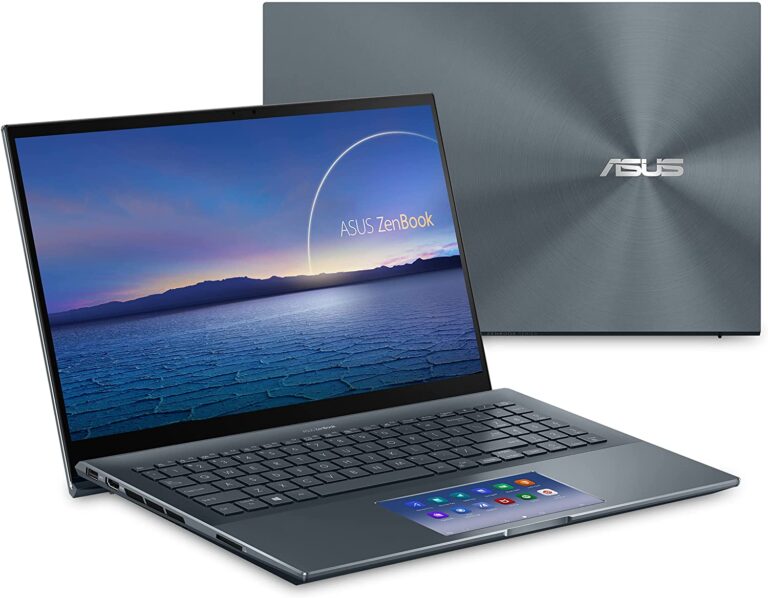 ZenBook of Asus is the brand that has made its place on our list, and who can have any doubts? This device can give the best specs for a laptop that is best suited for accounting operations. It is quite an elegant machine that is relatively light in weight and has the performance of a top-tier laptop.
The display is quite mesmerizing as it is a touch screen with a 92% screen-to-body ratio. The bezel-less screen can provide most RGB views, and the sturdy lid makes it reliable for long-term use. 
ZenBook 15 is fully equipped with high processing speed with 16 GB RAM and a Core i7 processor.
1 TB storage is quite enough for the use of an accountant. In terms of battery, it has a 71 Watt-hour battery which goes for 6 hours, and you can optimize the usage for an enhanced battery span. Other than that, it is excellent for the use of an accountant.
Specifications
RAM: 16 GB

Storage: 1 TB SSD

CPU: Intel Core i7 – 10750H

Battery: More than 6 hours

Display: 15.6 Inches FHD Touch Screen

Graphics Card: NVIDIA GeForce GTX 1650 Ti
Pros
Sufficient Storage. 

Sleek Design. 

92% Screen to Body Ratio.

RGB Backlit Keyboard.
Cons
---
Here, we are talking about a laptop by Dell, which is a bit of a luxury and has pretty much everything an accountant can ask for. Talk about the design, processing, or graphics specs or display, it is an all-in-all machine, and no one can deny it.
It has the Core-i7 powerful chipset, which is a complete complement to the existing 16 GB RAM. It has a complete balance in the outcome of great storage and powerful performance. 
About the enhanced display, 13.3 inches FHD IPS screen with Eye Safe Technology will not ask your accountant to put a strain on their eyes. It has the Gorilla Glass 6 to resist the damage and scratches to the screen.
The graphic card is enough for the visual data patterns and dashboards or for playing games like Minecraft. You can navigate everywhere by directing through your fingers with a touch screen.
Specifications
RAM: 16 GB

Storage: 512 GB SSD

CPU: Intel Core i7 – 1065G7

Battery: More than 10 hours

Display: 13.3 Inches FHD IPS Touch

Graphics Card: Integrated Intel Iris Plus
Pros
Top-notch Display. 

Lightweight.

Touch Screen & Fingerprint Sensor. 

Appropriate Battery Backup. 
Cons
Not much room for storage.
---
When you wish to run heavy and highly compatible software such as Zoho or QuickBooks, you ask for some powerful machine. You can have a look at this LG laptop, and trust me, you will be far from disappointed. This is the device that the manufacturers have designed, making it highly processable, light, and easy to carry.
It has an ultra-lightweight of 2.2 pounds which will hardly make any issue in carrying along. 
This laptop will give you zero lacks in any area. It will make your multi-projects run smoothly on your device. With 16 GB RAM and the high processing speed of Intel Core i7 – 1065G7, you can do much more than just run the software smoothly. What LG is providing without negligence is long battery timing.
A single charge can give you working for 18 hours straight, approximately 2 days working.
Specifications
RAM: 16 GB

Storage: 512 GB SSD

CPU: Intel Core i7 – 1065G7

Battery: More than 18 hours

Display: 14 Inches FHD IPS

Graphics Card: Integrated Intel Iris Plus
Pros
Sleek Design. 

Extraordinary Battery Span. 

Lightweight. 

Impressive Display. 
Cons
SATA is slower in this laptop.

 
---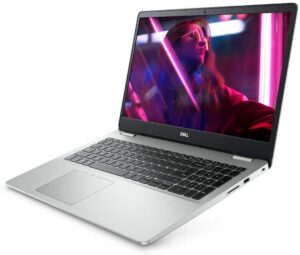 Dell has been giving out the best portable laptops, which have an elegant design and lightweight. This is something that professionals approve for enhanced productivity and higher mobility. It will be a great compliment to your personality if you are a person who likes things decent.
This sleek design and well-structured device have so much to offer that it will certainly leave you in awe. First of all, we talk about its display. It has a 1080p HD screen of 15.6 inches that grants different angles for view. The anti-glare panel is for saving your eyes from strain after long hours of work in front of the screen. 
Accountants require a high processing speed for multitasking, and for that, it has 16GB RAM, which will satisfy most of your accounting needs.
512GB SSD storage room is also more than enough, along with the quick bootup speed. To keep your laptop secure the valuable data, it has a fingerprint sensor so that only you can access the device.
Specifications
RAM: 16 GB

Storage: 512 GB SSD

CPU: Intel Core i5 – 1035G1

Battery: More than 10 hours

Display: 15.6 Inches

Graphics Card: Integrated Intel UHD
Pros
Sleek Design.

Impressive Processing. 

Protected Fingerprint Facility. 

USB 3.1 and USB 2.1 Ports are Available.
Cons
Some users ask for a battery timing even longer than 10 hours.
---
The top highlighting feature is its portable and hybrid 2 in 1 use. You can use it as a traditional laptop, turn the screen, and use it by navigating your fingers. The touch screen has been helping accountants more than before.
This device has all the necessary high processing speed specs, including DDR4 RAM. It is the device that will be the most excellent ease and accessibility for you in multitasking assignments and projects. 
Fourteen inches IPS display screen is just amazing to use for watching Netflix or creating attractive and eye-catchy visual data representation. With a vast storage space of 1 TB, you can stack up the files, books, and other media.
You will not be asking for further addition in the near future time, but when it is time, you will be able to either add up or replace.
Specifications
RAM: 8 GB DDR4 

Storage: 1 TB SSD

CPU: Intel Core i5 – 10210U

Battery: More than 10 hours

Display: 14 Inches Full HD Touchscreen

Graphics Card: Integrated Intel UHD
Pros
Integrated Fingerprint Facility.

Long Battery Life. 

Highly Portable. 

Touch Screen Interface. 
Cons
Speakers have a limited range of sound.
---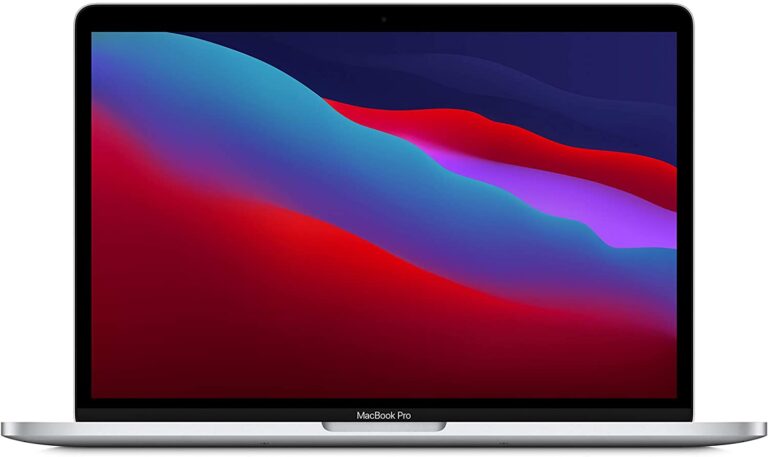 We all are familiar with how well Apple products work. Usually, people have been using it, and we hear no significant problems so far. The outclass performance works excellent for the accountants as well. It has been the dream for many accountants to work on MacBook Pro.
The hype falls right when you know about its high-end features and accessible qualities. First of all, it comes in the lightest laptop with a total weight of 3 pounds. 
MacBook Pro has an exceptional processing speed up to 3.8 GHz, all thanks to Apple M1 Core 8. the 8 GB RAM is the cherry on top. There can be no better display for your screen other than MacBook Pro's Retina screen.
It can entertain you well up to 17 hours after one-time charging. Do not get the wrong idea of a low-level battery with all these features.
Specifications
RAM: 8 GB

Storage: 512 GB SSD

CPU: Apple M1 8

Battery: More than 16 hours

Display: 13.3 Inches FHD Retina

Graphics Card: Integrated 8 Core
Pros
Apple Supported Credibility. 

Aesthetic Device. 

Retina Display.

Smooth & Backlit Lighting Keyboard.
Cons
No Extension for Additional Storage.
---
When you are searching among the HP laptops, which can provide you with the best performance and looks balanced, Pavilion wins the argument. It has the 11th Gen processor, which gives you ultimate processing while multitasking or running some heavy accounting software.
Then comes the 16 GB SSD RAM complements the processing quite well and makes your data run even quicker and more accurate. The core processing is based on four levels. It is undoubtedly the thing when you are concerned about the software running.  
The traditional silver color of HP beats most of its competitor's indecency and is classy. It has a 15.6 inches FHD Iris display screen with micro-edge bezels to give a better visual feel. Unlike the rest of the brands, HP provides the keyboard with a numeric keypad because accountants need numbers and figures more than anyone else.
The connectivity is also smooth and fast, with 2 Type-A and 1 Type-C USB port.
Specifications
RAM: 16 GB

Storage: 512 GB SSD

CPU: Intel Core i7 – 1165G7

Battery: More than 8 hours

Display: 15.6 Inches FHD IPS

Graphics Card: Integrated Intel Iris
Pros
Quick Charging Facility. 

Latest Generation Processor. 

Micro Edged Screen for Better Display. 

Bluetooth 5.
Cons
No RGB Lighting in Keyboard.
---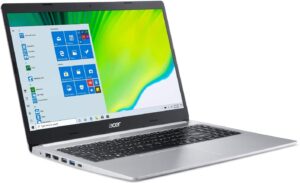 Acer Aspire is a perfect option when you want a machine compatible enough to work well with your accounting software. The 11th Gen Core-i5 processor is more than enough to meet your needs. It also has a 256 GB SSD for enough storage capacity. The most highlighting feature of this device has the built-in screen webcam.
It is certainly the hour of need these days of working from home and attending online meetings. 
Acer is famous for its sturdy, well-built, structured bodies and design for high portability and transportation with a light weight of 4.5 pounds. It also helps in low light circumstances with high display specifications and a backlit keyboard feature.
The battery timing is also no less than its other Acer laptop models. It can entertain you for 12 long hours on a single charge.
Specifications
RAM: 8 GB DDR4

Storage: 256 GB NVM SSD

CPU: Intel Core i5 – 1135G7

Operating System: Windows

Display: 15.6 Inches Full HD Screen

Graphics Card: Intel Iris Xe
Pros
Powerful Machine Within Budget. 

Long Battery Timing. 

Thunderbolt Technology for Data Sharing. 

Ultra-Responsive Touchpad.
Cons
The sound volume is not on par with its other flashy features.
---
Buying Guide – 9 Best Laptops for Accountants
Do you need the touch screen for your accounting job? The answer could be yes or no because it will add up accessibility for you on your side. Apart from these choices, try not to compromise on the following laptop features, or you will suffer a big time.
CPU
Here comes the brainpower of your laptop on top. The more powerful your CPU is, the more you are close to drawing the results from your device. You can never compromise on lagging or number crunching in an accounting job.
RAM
Your RAM will decide how you will work with your tasks and assignments smoothly without freezing up in the middle. You must try to go for the DDR4 RAM to run all your accounting software easily.
Storage
Accountants ask for more heavy storage than any of your colleagues. It is not their fault that they have to save the files and documents after every process. You should approach the SSD storage for quicker access to those files.
Battery
Accountants have to move from office to outlet and back to the office again. For that, they must have enough charging backup on their laptops. Accounting is a time taking the job, and your laptop should not lose your side mid-way.
Screen Size
Bigger screens are handy, especially when preparing tax forms or financial statements. Larger screens are required not to miss any detail or information on the screen. It is not optimal to switch from one part of the sheet to another.
Weight
Your laptop should be lightweight because it is not ideal for taking your heavy laptop from place to place every other day. Lightweight laptops are helpful, especially when you do not have a proper outlet desk.
---
Final Words
These are our 9 Best Laptops for Accountants with Buying Guide. It could be a matter of conflict for accountants to get a suitable device. We purchase the laptops keeping in mind to make them long-lasting. Your specs should be high enough to run any accounting software quickly and smoothly without lags. You must know about the right need for RAM, processor, storage capacity, appropriate screen size, and keyboards with numeric keypads. All of these laptops are equipped enough to do the job. 
You may also like:

Razer vs HP LaptopsRazer vs HP Laptops – Which Brand to Choose

How to Charge a Laptop Battery Without a Laptop?

9 Best Laptops for Computer Science Students