9 Best Gaming Mouse for Small Hands – Must check options 
Are you actively in search of a good gaming mouse for your gaming? We have some top suggestions for 9 gaming mice for small hands that fit right even if you have small hands.
Your major concern should be the excellent grip when you find the right mouse. Grip and mouse performance goes well hand in hand to play your favorite games effortlessly. The perfect mouse feels like it is designed just for you; the size, feature, and sensors too. 
However, there are many different players in this race. It is a benefit that there is a wide range of different products to get as many options as available within your range.
The new biggie for the mouse is the wireless connection and programmable features. Some mice are available with RGB vibrant colors and portable and movable parts. 
9 Best Gaming Mouse for Small Hands
We have some great choices for gamers who do not have bigger hands or like to play with large-sized mice. Following are the 9 gaming mice for small hands that are the top choice for most gamers:
Steel Series has a pretty impressive range of Counts Per Inch (CPI) for your screen resolution. It is compact with buttons available on both sides of the mouse. This mouse has a symmetrical shape that fits really well in your hand. It has attained an outstanding level of performance.
Regarding size and shape, it is similar to Steel series Rival 3. if you can withstand the slipping, there is nothing else you should worry about. 
It has RGB lighting, which glows on the logo and the scroll wheel. It is ideal for gamers with smaller hands and palms.
Build quality is also beyond satisfactory level as there has no such wobbling or flex in use. Although the scroll wheel does not contain a left or right tilt, the mouse seems quite sturdy in use. 
You can also neglect the slippery effect if you have the proper grip on your mouse.
Pros
Impressive latency per every click.

Software support with Engine 3. 

Programmable buttons as well as a trackball. 
Cons
The cable can be stiff when unboxing and get well with use.
---
We will be talking in favor of some MMO and MOBA gamers. This mouse stands among the well-built mice, and a textured grip and a soft-touch plastic body are things we all look out for when getting ourselves a good quality mouse.
The most highlighting factor is its 12 buttons on the side of the mouse, which is to adjust along with your hand size. The low latency with a lower lift-off balance will be enough to make your mind make the purchase. 
Talking about the CPI range, you can also adjust it with an increment of one. They are especially advantageous for users with smaller hands using their fingertips with a claw grip. They provide the software where you can set the clicks for customization based on your preference.
It is also equipped with four different zones of lighting. The size is also very convenient for use. The matte coating is for an elegant look. You can even rest your pinky finger while gaming. 
Pros
Numerous programmable buttons. 

Suitable latency rate. 

Rich built quality. 

Customizable through software for Windows and macOS.
Cons
Cable stiffness can cause some issues.
---
Here is something that is well with all the features and still comes light on your pocket. Redragon M711 Cobra Gaming Mouse has a close resemblance with the Razer Death Adder. It has a well-built body with the same soft-touch finishing and buttons available on the sides.
It is optimal for every kind of grip style and goes well with almost every hand size so that gamers with smaller hands do not feel left out. The users should not use it with their fingertips and claw position because it has a significantly high middle hump. 
Like our other options, it too has optimal clicking latency with a low lift-off distance, and the Counts Per Inch has a wide increment range of 100. The look is elegant, thanks to the RGB lighting layout on the scroll wheel, logo, and sides. It is not something very great with weight.
Also, it has a bodyweight of around 150 grams. A palm grip is recommended for people with small hands with these mice.
Pros
Well-built quality.
Enhanced click latency.
Stylish body look.
Two different CPI adjusting buttons for on-the-fly customization.
Cons
Some gamers have complained about being heavy mice.
---
This is something that is suited well for gamers. It is a wired mouse designed after the successful launch of the Razer Viper mouse, and it is suitable for gamers with smaller hands. It tends to compete among the lightest mice we have ever seen. It has low click latency, which will be perfect for higher responsiveness and gaming without any lag.
These are the ones that you can use with the fingertip claw grip. The grip type goes well with hand size. 
Talking about the sensors, it is not compelling compared to the other Viper series mice, but it is still not too bad. You might make it fall under the negative side that the mouse is not equipped with too many buttons, but they are more straightforward for gaming other than MMO.
The advantageous point is that you can customize your buttons accordingly with every gameplay, whatever your gaming type is.
Pros
Light in weight.
Stunning low latency for click.
Sensors are quite responsive.
No kinks and drags for your mouse cable.
Cons
CPI range is somewhat limited compared to other Viper mice.
---
Another mouse with simpler gaming options with lightweight. They are the ones who will get positive responses from right-handed gamers. The reason is its high back and curvy design, which adjusts well with your right hands. The low latency is for the improved mouse response in terms of sensitivity.
It is quite considerable about the CPI range but not as much as other gaming mice available in the market. Clearly, the CPI range is enough with the low price. 
These are the ones that would complement the gamers who adjust with the buttons and do not want to go through the customizable settings. It also lacks when it comes to RGB lighting but an effective, lightweight, and extremely comfortable grip.
The matte black color body with a curvy shape is ideal for claw and palm grips and looks decent. The side buttons do not ask for much pressure while gaming, and you can use them for quick moves.
Pros
Low latency.
Comfortable in grip and hence in use.
Light in weight and easier to move through the pad.
Compatible enough with Windows as well as macOS.
Cons
No customization software itches to some gamers.
---
Are you searching for an extra lightweight mouse for your gaming? We have just the right thing for you. This mouse does not have weight customization, so there is no such need for it. The body has a honeycomb grip, and the pattern gives you a great grip on your mouse while gaming.
The wire is quite light and flexible for use. It has 6 buttons in which you can customize two of them the way you want them. The side buttons are the programmable ones. 
The counts Per Inch (CPI) range is quite rich, ideal for either slow or quick cursor movements. The sensors work really well, and it is the one that can satisfy you with the game's sensitivity.
Make sure you search for the smaller version if you have smaller hands. That is the one specially designed to serve the purpose.
Pros
Low latency mouse.
Comfortable in use.
Honeycomb grip style.
Available in many colors.
Long flexible wire.
Cons
Some gamers still want it to be lighter as there is no customizing feature for it.
---
Logitech is famous for providing high-quality and versatile wireless mice for enhanced gaming. It has a sturdy body, well-built and symmetrical in size and shape, made up of plastic for a soft touch. The egg-shaped body is especially for users who have smaller hands.
It gets the power through an AA battery and connects through the USB receiver. Customizable buttons are available on the left side, and the button below the scroll wheel is for adjustment of CPI. 
Logitech is providing some extraordinary quality for the built and for performance. Being wireless, they are highly portable, and white, blue and black colors are sober enough to match your personality.
Like other mice, it too has low latency and lower lift-off distance. There is no room for wobbling or loose buttons. They are ideal for use with either your right or your left hand. Extreme comfort and great grip are the main reason behind the success of this mouse. 
Pros
Small-sized egg-shaped body.
Elegant colors with RGB lighting in the scroll wheel.
Wireless facility for higher portability.
Rich and sensational well-built body.
Cons
Some gamers claim this to be heavy and inconvenient in terms of weight.
---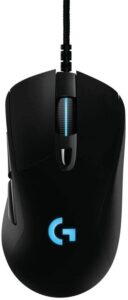 Here is some great invention of Logitech with the wired mice as well. Logitech knows well what a gamer seeks and gives out their best product. Similar to other models, this one is nothing less in terms of performance. As good as Logitech already is, there is some strange thing that it has a HERO sensor which makes this one even greater.
It gives higher sensitivity to the mouse along with a high polling rate.  Also, It has a tremendous built quality with a shape mostly comfortable for every user. They have also thought about the small hands, and this works great with either palm or claw grip.
Low latency and a wide range of CPIs are consistent. The number of buttons in this mouse is considerable, and each one of them is programmable; however, it is still less for the MMO game players. Just one thing is that the scroll wheel feels ordinary and basic as compared to other fascinating features.
Pros
Comfortable in use.
Adequate latency.
High polling rate.
Sturdy for long-term use.
Cons
We call the scrolling basic without many options, although it works perfectly fine.
---
This one is an advanced version of the renowned brand DeathAdder. They are successfully giving out the best gaming mice since the start. The body style and design are somewhat similar to the previously existing models. If you are a right-handed gamer, it is almost a blessing for you.
Unlike other bulky and heavy mice, this gaming mouse has a sleek and lightweight design and body. They claim that it fits in almost every hand with a palm grip. 
This is the one that is ideal for FPS gaming. The low latency and CPI performance are nothing less, and cursor movement is fantastic. High responsiveness and the customizable buttons as per your preference are the motivation to purchase this one.
It also has programmable options with supporting software. It also has an advanced color approach rather than just green. It gives an RGB color feature to the users. 
Pros
Specially designed for gaming purposes.
Brilliant performance.
The design and built feel quite rich.
Universal grip for hands of every size.
Cons
Not suitable for the claw grip. 

The cable feels a bit rigid to use.
---
Buying Guide: What should you consider when buying a wireless mouse for small hands? 
Only gaming enthusiasts can tell you the importance of getting a gaming mouse. You can play the games with your regular mouse too, but we all know that it will be the same. We put the weight and grip on preference, but there is more that you should bring to your attention. When you are out there searching for the right mouse, the following are the aspects you must consider:
Gaming Type
The gaming mouse you should have first considers the type of games you play. Only after figuring out the gameplay can you identify which mouse and what features will fit your requirements well. If you are a fan of racing games, they do not ask for many features, but first-person shooting games require high sensors and great movement sensitivity.
RTS or MMO games require some additional buttons for your mouse. Considering FPS gamers, they ask for quick tracks and accurate responses. 
Sensors
The sensor is something that should be working top-notch for your extreme gaming experience. It also comes down to the preference of gaming style. It divides for either going after laser mouse or optical sensor mouse. Optical sensors are accountable for retaining the best sensors for a gaming mouse.
Being best is by giving the advanced sensory motion for better gaming. Secondly, laser mouses have room for lacking while optical mouses do not put any such issue.
Wireless Mouse
Back in previous years, the wireless mouse was new in the market, and it tended to have a slower response for gaming. However, today there is no wireless mouse that you may find lacking. Technology has improved, and a wireless mouse is available with even better performance.
One of the most advantageous factors is portability. You can place your mouse anywhere on your surface where you feel comfortable. Spending a bit more would not be much of an issue when you go for such comfort.
DPI & CPI
Dots Per Inch (DPI) counts how many pixels your mouse cursor will move on every movement. You can get the exact DPI count when you know the size of your screen. The larger the screen size, the higher the DPI should be in order to play smoothly.
At the same time, Count Per Inch (CPI) is the camera's resolution for the sensors. It is for the sampling of every inch. They both collectively represent the sensitivity of your mouse.
Lighting and Customization
Mice should be customizable because not everyone likes the standard designs and colors. Customizing features will allow you to set the mouse buttons as you like. Now, you can customize your mice as you want. Another feature that you should examine for your new mouse is the lighting feature.
The light of your mouse must not disrupt. Otherwise, it will kill the vibe of playing your favorite game in a dark room with dim lights.
---
Final Words
These are the top 9 gaming mice for small hands. They all have great latency rates and CPI rates for better sensitivity and performance. Most of them are wired as per the fact that wired mice are more suitable for gaming purposes. Some are preferable for claw grip, while others are for the palm grip or even both.
You may also like:

Is Razer Blade better than Alienware?

Should I Buy a Gaming Laptop or Gaming Console?